SUSHI'S SECRETS

— How To Make Sushi - Sushi Making DVD
This DVD is better than most sushi books! A unique experience!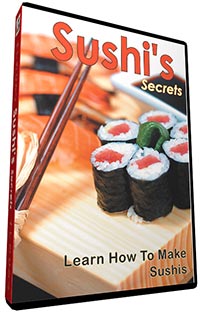 The SUSHI'S SECRETS DVD is a fun, easy and entertaining way for you to learn how to make delicious sushi at home from Sushi Chef Mikio Owaki. Never before has an authentic Japanese Sushi Chef and Instructor revealed his years of know-how like this.

After following the step-by-step instructions from Sushi Chef Mikio Owaki (see bio below) you will be amazed by your own results. You'll enjoy rolling your own sushi and you'll also be able to delight your family and friends.
65 minutes of video! An Interactive Menu! PLUS A FREE NUTRITION CHART!


Introduction

The Intro (01 min. 07)


The Basics

How To Choose The Knives (01 min. 02)


How To Cut The Fish (03 min. 26)


How To Cut The Vegetables (04 min. 59)


How To Prepare The Wasabi (01 min. 44)


How To Prepare The Shrimps (07 min. 42)


How To Make Good Sushi Rice (03 min. 58)


How To Make Sushi

The Nigirisushi (08 min. 25)


The Vegetarian Temaki-Sushi (04 min. 03)


The Small Roll (16 min. 39)


The Futomaki (08 min. 51)


The California Roll (08 min. 29)

"I've been eating sushi for over 30 years and I've tried my hat at it a few times as well. Now, after watching your very well done video, I've decided to take some classes here in Los Angeles!" -- Hank Garfield, LA, California


About Sushi Chef Mikio Owaki


Mikio Owaki has been a Sushi Chef since 1984, when he began working for Montreal's first sushi restaurant — The Sushi Bar. It was there that legendary Sushi Chef Joe Nagata taught Mikio many of his skills and trade secrets.

Soon afterwards Mikio was in demand and moved to The Sakura Sushi Restaurant. Mikio was Sushi Chef at the Sakura for 5 years, and then was asked to be the Head Chef of the world-renowned Mikado Sushi Restaurant. He accepted, and has been the Mikado's Head Chef ever since.

Sushi Chef Mikio Owaki, who is considered a Specialist in Authentic Japanese Sushi, reflected recently on the "Sushi's Secrets" DVD and told us this:

"Sushi's Secrets is a great way to learn all the basics. I tried very hard to make it as easy as possible and feel that I succeeded. People have told me that they now understand what to do, and how to do it. They say that they are very comfortable rolling and have been praised for their newly acquired talents! I'm very happy about that. But I want to say that I suggest that with this sushi-making knowledge, that you try and create your own styles of sushi by using your own recipes. Be unique. Be creative!"