Miyamoto Cooking Classes
Notre site est aussi offert en français.


LIKE Miyamoto and take advantage of our Facebook only promotions! News, recipes, sales, cooking class schedules and more... Go to our Facebook Page now...

Sushi Workshops


Miyamoto offers many workshops for individuals to learn how to make delicious and beautiful plates of sushi. Classes are held on Sundays. The classes consist of a single 4 1/2-hour intensive workshop that are designed to teach you how to make sushi from scratch.
Separate classes are held for English and for French.
Classes can be arranged for private groups.
There are a maximum of 6 students per class, and each student has their own workstation.
Classes are led by professional sushi chefs that come from the top sushi restaurants in Montreal.
Classes are $108.75 (plus taxes) per person.
We also offer Private Courses, Professional Consultation, and Private Parties.
Please reserve 3-6 weeks in advance.
"A great big THANK YOU! What a great night! I will definitely be recommending you guys for other events!"
— Tamara
To pay by Visa or Mastercard please call
(514) 481-1952
.
Miyamoto News – Sushi and Cooking Classes
RESERVE NOW Miyamoto Foods is now accepting reservations for the following Sushi and Cooking Classes:
COURSES 2023
PRIVATE LESSONS — it is recommended you have some experience with sushi making, or have taken a Level 1 class with us before.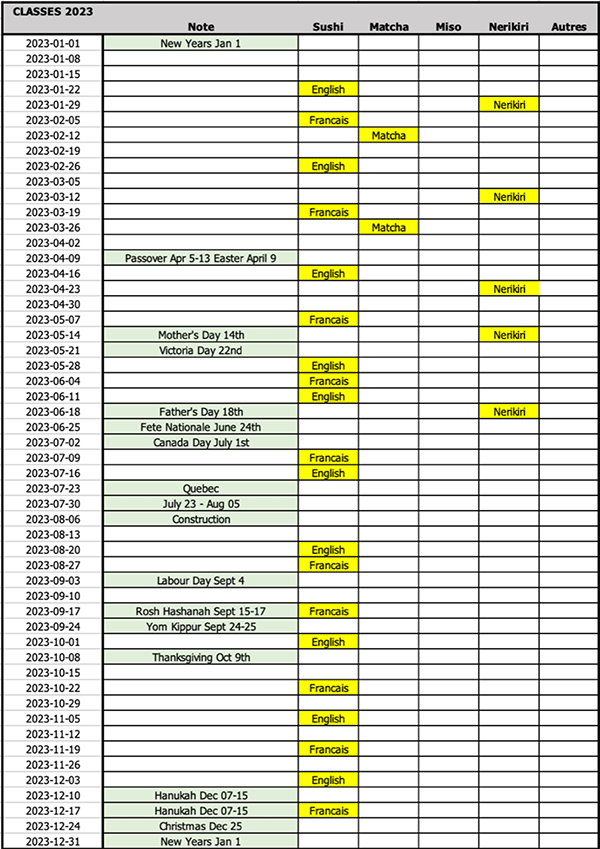 COMING SOON!!!!!!!!


NEW — How To Make Sushi — SUSHI'S SECRETS


This DVD is better than most sushi books! A unique experience!
The SUSHI'S SECRETS DVD is a fun, easy and entertaining way for you to learn how to make delicious sushi at home. Never before has an authentic Japanese Sushi chef and instructor revealed his 20 years of know-how like this. Following the step-by-step instructions you will be amazed by your own results. You'll enjoy rolling your own sushi and you'll also be able to delight your family and friends. 65 minutes of video! PLUS A FREE NUTRITION CHART!
Learn more on our Sushi DVD Page How To Make Sushi - Sushi Making DVD — SUSHI'S SECRETS