Miyamoto Cooking Classes
Notre site est aussi offert en français.


LIKE Miyamoto and take advantage of our Facebook only promotions! News, recipes, sales, cooking class schedules and more... Go to our Facebook Page now...

Sushi Workshops


Miyamoto offers workshops for individuals to learn how to make delicious and beautiful plates of sushi. Classes are held every Sunday, except for holiday weekends. The classes consist of a single 4-hour intensive workshop that are designed to teach you how to make sushi from scratch.
Separate classes are held for English and for French.
Japanese classes can be arranged for private groups.
There are 12 students per class, and each student has their own workstation.
Classes are led by professional sushi chefs that come from the top sushi restaurants in Montreal.
Classes are $86.97 (plus taxes) per person.
We also offer Private Courses, Professional Consultation, and Private Parties.
Please reserve 3-6 weeks in advance.
"A great big THANK YOU! What a great night! I will definitely be recommending you guys for other events!"
— Tamara
To pay by Visa or Mastercard please call
(514) 481-1952
.
Miyamoto News – Sushi and Cooking Classes
RESERVE NOW Miyamoto Foods is now accepting reservations for the following Sushi and Cooking Classes:
COURSES 2013/2014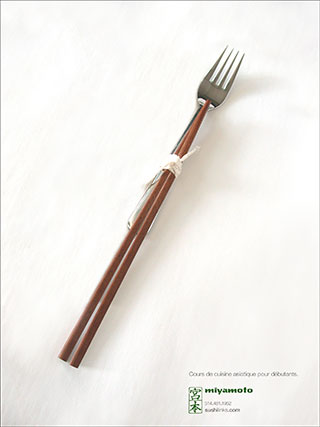 THREE WEEK COOKING CLASS - 2013/2014
French
November 27, 2013
December 4, 2013
December 11, 2013

English
February 12, 2014
February 19, 2014
March 05, 2014

French
March 19, 2014
March 26, 2014
March 30, 2014
April 2, 2014

English
April 23, 2014
April 30, 2014
May 7, 2014

French
May 28, 2014
June 4, 2014
June 11, 2014

English
October 15, 2014
October 22, 2014
October 29, 2014

French
November 12, 2014
November 19, 2014
November 26, 2014


SUSHI WORKSHOP-LEVEL 1 - ENGLISH 2013/2014
December 1, 2013 English
February 2, 2014 English
March 2, 2014 English
April 6, 2014 English
May 25, 2014 English
June 15, 2014 English
July 13, 2014 English
September 14, 2014 English
October 26, 2014 English
November 9, 2014 English
November 23, 2014 English
December 7, 2014 English


SUSHI WORKSHOP-LEVEL 1 - FRENCH 2013/2014
December 8, 2013 French
February 16, 2014 French
March 23, 2014 French
April 27, 2014 French
June 8, 2014 French
August 17, 2014 French
September 28, 2014 French
November 2, 2014 French
November 16, 2014 French
November 30, 2014 French
December 14, 2014 French

PRIVATE LESSONS — it is recommended you have some experience with sushi making, or have taken a Level 1 class with us before.
NOTE – These classes fill up very quickly. Please reserve by calling 514-481-1952.
NEW! Japanese Cuisine Classes with Chef Mikio Owaki


Japanese food is not just sushi! Join us for three consecutive Thursdays and learn how to become the master Japanese Chef you've always wanted to be. The special guest chef from Miyamoto Foods will teach you all the basics you will need. We offer cuisine classes that allow you to prepare delicious Japanese dishes at home. The courses takes place on Thursday evenings 18:30 - 20:30. There is a maximum of the 10 participants per course. The courses are animated by professional chefs that have the experience of working in the best restaurants in Montreal. The cost for a single session is 43.49$ plus taxes. The cost for three sessions is 109.59$ plus taxes. We offer also private courses and professional consultations and organize private parties. Please reserve well in advance.
Mikio Owaki has been a sushi Chef since 1984, when he began working for Montreal's first sushi restaurant – The Sushi Bar. It was there that legendary sushi Chef Joe Nagata taught Mikio many of his skills and trade secrets. Soon afterwards Mikio was in demand and moved to the Sakura Sushi Restaurant. Mikio was sushi Chef at the Sakura for 5 years, and then was asked to be the Head Chef of the world-renowned Mikado sushi restaurant. He accepted, and has been the Mikado's Head Chef ever since.
Wesley Miyamoto
Aliments MIYAMOTO
382 Victoria Avenue
Westmount QC H3Z 2N4
CANADA

514.481.1952 tel
514.481.4379 fax

NEW — Watch our sushi chef Mikio on Discovery Channel's "How It's Made" on Sushi...
Participate in a sushi workshop with our star chef!





NEW — How To Make Sushi — SUSHI'S SECRETS


This DVD is better than most sushi books! A unique experience!
The SUSHI'S SECRETS DVD is a fun, easy and entertaining way for you to learn how to make delicious sushi at home. Never before has an authentic Japanese Sushi chef and instructor revealed his 20 years of know-how like this. Following the step-by-step instructions you will be amazed by your own results. You'll enjoy rolling your own sushi and you'll also be able to delight your family and friends. 65 minutes of video! PLUS A FREE NUTRITION CHART!
Learn more on our Sushi DVD Page How To Make Sushi - Sushi Making DVD — SUSHI'S SECRETS