A SHORT HISTORY OF MIYAMOTO FOODS
Notre site est aussi offert en français.


LIKE Miyamoto and take advantage of our Facebook only promotions! News, recipes, sales, cooking class schedules and more... Go to our Facebook Page now...

The present administrator, Wesley Miyamoto, is the grandson of the original founders, Dentaro and Yone Miyamoto.
Dentaro Miyamoto landed in Vancouver from Wakayama prefecture, Japan in 1907, and was shocked to experience the race riots of Chinatown and Japantown when angry mobs of white men attacked and smashed store windows. Eleven years later, Yone joined him and they were married in Vancouver. They had three children: two daughters who were raised in Japan by their grandmother, and a son.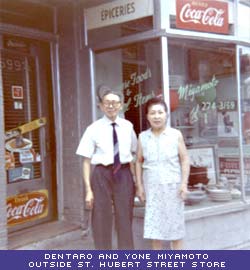 Eventually they moved from New Westminister to Port Alberni on Vancouver Island. Dentaro found work in a sawmill and was involved with the labour union at a time when all "oriental people" were eventually expelled because they accepted work at very low wages.
With the bombing of Pearl Harbour on December 7, 1941, and the removal of 21,000 Japanese Canadians from a one hundred mile radius of the West Coast, the Miyamoto family was hurriedly moved to the Hastings Park collection depot where they endured the stench of the previous animal occupants.
Dentaro was sent to a road camp along with other able-bodied men. The family was then moved to Slocan, an internment centre for approximately 5,000 people, where Dentaro received $10 per month for the daily servicing of the community bath. Because the Security Commission which supervised the removal was urging young adults to move to Eastern Canada, their son Tosh moved to Montreal and found employment; in May 1945 Dentaro and Yone joined him.
Within a week of arriving here, Dentaro was referred by the Security Commission to a brick manufacturing factory where he worked along with two other Japanese, Mr. Ogura and Mr. Tsunokawa. The worked 9-10 hours a day, six days per week sometimes even on Sundays. At 50 years of age, he hated the hot, heavy work but having had no income for over three years he was desperate.
Yone found work sewing coats and suits in a garment factory and was paid by piece work. There, she became a member of the union.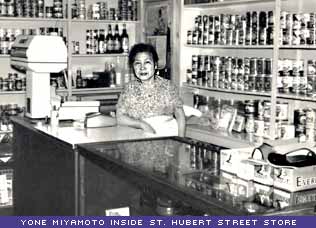 In spite of the unskilled labour at which Dentaro worked, he had an exceptionally enquiring, analytical and intelligent mind. He had friends amongst the editors of the Japanese Canadian newspapers, and often contributed articles to
The New Canadian
.
In 1945, when the Canadian government through the RCMP was urging JCs to chose Japan rather than Eastern Canada, he wrote urging his fellow internees to chose Eastern Canada rather than war decimated, starving Japan.
In 1957, at age 65, Dentaro retired and the couple took the momentous decision to sell their house and open a Japanese grocery store at 5997 St. Hubert Street, where they combined shop and living quarters.
While holding down a full-time job as Director of Purchasing, their son Tosh looked after the administrative side of the retail business and made deliveries on weekends with the "help" of his young sons, Ronnie, Neil and Wesley. Later, Taro and Nishimura and Charlie Ogawa helped behind the counter and with deliveries.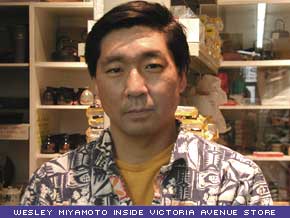 In 1981, after 24 years of running the St. Hubert Street store, Dentaro, 89, and Yone, 81, really retired. (Dentaro enjoyed his retirement and lived to the age of 99. Yone died at 85.)
That year Miyamoto Foods moved to Victoria Avenue in Westmount, taking over Mr. Chung's Oriental Foods store.
At that time grandson Wesley, who was pursuing studies in business management at McGill, thought he would try his hand at running the business for just one year.
As it turned out Wesley Miyamoto stayed on, and he is still there today, enjoying the challenge of adapting to keep up with changing demographics.
The staff is now multilingual (Japanese, French, English and Vietnamese), and the store offers a wide variety of items, including take-out sushi, kitchenware, and books and magazines. Miyamoto Foods also offers popular Japanese cooking classes.