Japanese Sunomono Salad

This dish serves as a great accompaniment to most Japanese meals. Sunomono translates into English roughly as vinegared food. The following recipe is both light and refreshing. It is particularly good to eat in the hot summer months.


Ingredients: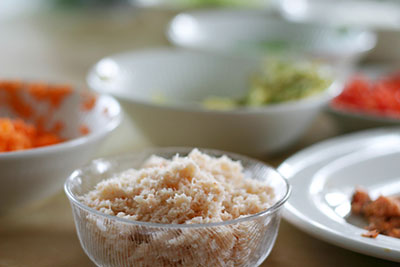 100 g Dried Harusame Noodles
200 g Crab Meat [I love the Phillips brand]
1 English Cucumber
1 Small Carrot
1 Small Ginger Root
1 Small Japanese Daikon Radish

Marinade:

100 ml Seasoned Rice Vinegar [Marukan or Mitsukan]
15 ml Sake
dash Soy Sauce [Kikkoman or Yamasa]
dash Sesame Oil

Step 1

Mix all marinade ingredients and set aside.


Step 2

Boil noodles — 3 minutes — stirring occasionally then rinse well with cold water and drain.


Step 3

Drain crab meat.
Slice thinly crosswise 10 pieces of English cucumber.
Shred 1/2 cup carrots [I love using my katsura muki-ki for this].
Grate finely 2 tsp ginger root.
Shred 1/2 cup Japanese radish [Use your katsura muki-ki for this too].


Step 4

Combine all ingredients and toss well while adding the marinade.


Step 5

Garnish with lemon wedges and wakame seaweed if desired.


Step 6

Serve chilled.


for some more exclusive recipes, see our Sushi Recipes Page




NEW — How To Make Sushi — SUSHI'S SECRETS — NEW PRICE $19.99!
This DVD is better than most sushi books! A unique experience!
The SUSHI'S SECRETS DVD is a fun, easy and entertaining way for you to learn how to make delicious sushi at home. Never before has an authentic Japanese Sushi chef and instructor revealed his 20 years of know-how like this. Following the step-by-step instructions you will be amazed by your own results. You'll enjoy rolling your own sushi and you'll also be able to delight your family and friends. 65 minutes of video! PLUS A FREE NUTRITION CHART!
Learn more on our Sushi DVD Page How To Make Sushi - Sushi Making DVD — SUSHI'S SECRETS


MameNori – Soy Bean Wrappers For Making Sushi

Mame Nori is the perfect solution for sushi lovers who may be allergic or have a distaste for regular seaweed nori. Mame Nori is a high-quality sushi wrapper that is made from 100% soy beans. Mame Nori also comes in 6 beautiful colors, so that you can add an artistic touch to your sushi rolls.

Soy protein is of the highest quality, but without the cholesterol and saturated fat. It can be the sole source of protein, without causing any nutritional imbalance.
Learn more on our Mame Nori Sushi Wrappers Page


NEW - Sushi Magic Sushi Maker - The Ultimate Sushi Making Kit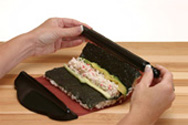 Sushi Magic is the world's best home sushi maker! Acclaimed by home users and chefs alike, Sushi Magic is a complete sushi making system that really works. Each kit includes two sushi makers in one attractive gift box, free sushi lessons with techniques and secrets for making great sushi, and where to find and how to prepare sushi grade fish, seafood, and ingredients.
See our online demos!


New – Wall Size Sushi Poster

This beautiful Sushi Poster makes a wonderful gift!
Wall-sized, it is also available in a special laminated version.
ORDER NOW AND GET FREE SHIPPING!
The Sushi Poster features a beautiful spread of sushi fish and classic sushi rolls with Japanese names and English translations. The background is a photo texture of soft wood. You will love this beautiful Sushi Poster! Sushi Poster - Wall Size - 33" x 21"